Industry expert opinions vary considerably when it comes to predicting medium- and heavy-duty truck sales for 2016. Some expect the tremendous increase in sales we've seen since late 2014 to flatten out, or even dip a bit. Others see a continuing upward trend.
One of those is Brian Cota, vice president of sales, national accounts for Daimler Trucks North America. He credits improvements in fuel efficiency and Freightliner's long-standing emphasis on quality for driving strong truck sales.
What's trending with new heavy duty truck sales?
Daimler says its new integrated drivetrain is hot. And no wonder – fuel efficiency is impressive. Cota says that by model year 2017, Freightliner Cascadia Evolution trucks should get 6.82 miles per gallon, and those ordered with DT12 automated transmissions will get 7.15 miles per gallon. That compares to 6.5 mpg on model year 2013 Cascadias with Detroit engines.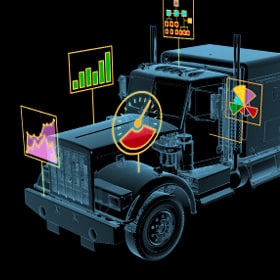 Other most-popular innovations being ordered:
66% of trucks in the Daimler Trucks North America line have high aerodynamic content
40% have direct drive transmissions
40% have collision mitigation systems
11% of sleepers are being spec'd with auxiliary power units
13% are being spec'd with battery HVAC systems
10.5% have wide base single tires
2.5% of Daimler's trucks are now being spec'd with 6×2 axles. This percentage may seem small, but it's a noticeable increase according to the company.
Cota says all truck manufacturers agree about what the testing standards should be for phase two greenhouse gas regulations currently under government review. He says there should be enough time before those regulations take effect to allow OEMs to meet the higher standards.
The National Truck Equipment Association agrees 2016 will be a good year.
The NTEA's Market & Data Research Director, Steve Latin-Kasper, also anticipates continued growth in commercial truck sales as we move in 2016. He credits a US economy that's finally healthy, noting that most trucks manufactured in North America are also sold here. That means fluctuating economic conditions in other countries shouldn't have much impact on American truck sales in the near term.
Latin-Kasper notes there are several other factors that support increasing heavy-duty and medium-duty truck sales. Among them, he cites growing retail sales, growth in the residential segment of construction, increasing in government investment at both state and local levels and a more stable labor market.
In particular, he points to certain industries that are leading the way toward growth. While the oil industry is expected to lag in 2016, it typically accounts for only about 5% of truck sales.
On the other hand, he says construction traditionally represents about a quarter of truck sales. Latin-Kasper believes the new residential boom will outweigh currently poor performance in non-residential construction. He suggests new trucks will be in demand for everything from delivering supplies to worksites to serving as mobile workshops for contractors and delivering the final furnishings.
Local and state government purchasing typically represents about 10%-15% of total truck sales. Other industries likely to see significant increases in truck purchasing during 2016 include telecommunications, gas and electric utilities, truck rental and leasing, manufacturing, wholesale and retail. All will be looking to cash in on increased fuel efficiency and reduced maintenance costs, according to Daimler's Cota.