Fiori Site Dumpers And Compact Mixers
Compact and Powerful
Transporting concrete and loose materials is a constant requirement in construction and landscaping projects. Choosing the right equipment is crucial to ensure a smooth and safe operation.
If you're looking for cost-effective site dumpers and compact mixers for your next job, consider Fiori – who offers a successful line of concrete mixers and dumper systems.
Fiori site dumpers are compact in their class, making them perfect for restricted and narrow workspaces. Additionally, their compact mixers are highly maneuverable and flexible.
With reliable "Yanmar diesel" engines, Fiori concrete mixers and dumper systems provide everything you require for a job site.
Fiori Site Dumpers
The Fiori Site Dumpers are highly versatile vehicles transporting construction materials in challenging environments. They're perfect for maneuvering through tight spaces like alleys, tunnels, small construction sites, and off-road and rough terrains.
The dumpers offer exceptional safety features, including an articulated chassis, a front oscillating axle, a tested reversible driver's seat, a spacious (ROPS/FOPS) cab, and a low center of gravity.
These features enhance maneuverability and visibility, making Fiori site dumpers the safest 5.0 to 10-tonne dumpers on the market.
With hydrostatic transmissions, 180° dump-body rotations, and the capacity to unload on three sides, the Fiori dumpers outshine their competitors in traction and maneuverability on harsh terrains.
The innovative reversible driver's seat allows safe movement in each direction, ensuring easy access to any area with utmost safety.
Why Choose Fiori Site Dumpers?
Here are a few reasons why you should choose Fiori Site Dumpers for your various construction projects:
Ability to Move Heavy Loads: Fiori Site Dumpers can carry a considerable payload, although less than full-size dumpers. Some Fiori models, like the Fiori D100 SW site Dumper, can carry up to 10 tonnes of material.
Easy-To-Move: Fiori Site dumpers are compact and maneuverable, making them easy to navigate around job sites. With 3-way dumping or tipping and 180-degree rotations, these dumpers offer smooth steering and load transportation.
Narrow-Site Adaptability: These site dumpers are well-suited for work in restricted or narrow spaces, such as tunnels or alleys. They provide safe and easy operation in both reverse and forward motion.
Traction On Rugged And Slick Terrain: Fiori Site dumpers are equipped with continuous tracks that can handle heavy loads on slippery or uneven surfaces.
Convenience And Safety Features: Modern dumpers often have additional features for safer and more convenient material transportation. Like any other modern site dumper, Fiori dumpers also include suspension seats, safety decals, seat belts, road lighting kits, rotating beacons, reverse cameras, and reverse quacker alarms.
Compact Mixers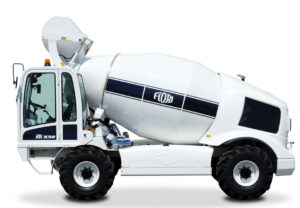 The Fiori concrete mixers are rugged vehicles designed for off-road concrete transportation. They provide agility and handleability and are capable of carrying 5 to 5.5 m³ of S1-class concrete.
These mixers excel in off-road conditions due to their hydrostatic transmission, lightweight design, and four-wheel steering and drive.
The special drums with double augers, convex bottoms, and 'drum swiveling management' systems guarantee a consistent mix, resulting in compact concrete.
With reversible driver seats and a 'Level II ROPS-FOPS cab,' these mixers are perfect for moving the concrete in mines, tunnels, and other narrow areas with limited maneuvering space.
Additionally, Fiori concrete mixers are the "only" off-road mixers worldwide that offer a ZERO-emission concrete mixing system option.
Benefits of Fiori Concrete Mixers
Listed below are the benefits Fiori concrete mixers offer:
Takeaway
Does your construction business need site dumpers and concrete mixers? When it comes to on-site concrete or transporting materials like sand, gravel, dirt, and waste during maintenance and construction projects, various earthmoving equipment choices are available.
No matter your construction needs, Fiori site dumpers and compact mixers can handle a variety of tasks effortlessly and ensure you have a safe, seamless, and efficient project execution of your projects.