Introducing the New Holland C330
Vertical Lift Compact Track Loader
The compact track loader range from New Holland Construction has evolved to new heights with the C330 vertical lift compact track loader. This medium-frame machine delivers impressive power and unbridled maneuverability, making it the perfect choice for projects that require working in tight spaces.
The New Holland C330 has a working width of 68 inches allowing it to navigate tight spaces like backyard gates and move between houses or buildings. That makes it a valuable asset for landscaping and residential construction projects.
Additionally, the machine is equipped with the company's latest vertical lift technology called the"Super Boom". This places the operator in a low shoulder position and features small towers for improved visibility and performance.
This cutting-edge technology gives the C330 unparalleled power, maneuverability, and operator comfort.
Let's learn more about the New Holland C330 compact track loader.
Lift Productivity With Super Boom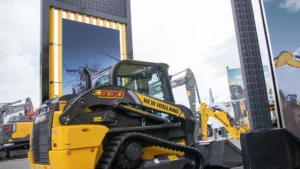 With a powerful 67-horsepower (50-kilowatt) engine, the New Holland C330 track skid steer can easily carry heavy loads of stones, timber, rocks, and other materials.
It is a versatile machine with electrohydraulic controls that enable operators to choose between H-pattern and ISO controls with speed and sensitivity regulators.
This makes the C330 an excellent choice for residential and other contractors requiring a machine that can handle various tasks. Additionally, the power management tech allows operators to move heavy loads without interruption, ensuring a smooth operation.
The vertical lift arms powered by Super Boom tech are another standout feature of the C330. They give operators greater reach and height when loading supplies in high-sided trucks, making it easier to tackle tough jobs.
And with narrow cab pillars, low shoulders, and a large visibility panel in the cab roof, operators have an excellent view of the surrounding job site and overhead attachments.
Ultimate Operator Convenience
New Holland has an impressive lineup of track skid-steer loaders, some of them with engines that are rated between 74 and 114 gross horsepower (55 to 85 kilowatts). The latest addition to this series is the C330, which features an 8-inch multifunction color display and soft button joysticks, just like the other models.
The display offers crucial information such as fuel level, engine performance data, hydraulic oil temperature, battery life, etc.
The C330 is a vertical lift track loader designed to make things easy for operators. It helps reduce fatigue and keeps the machine's weight low, which is particularly useful for contractors in landscaping and residential areas who might have trailer and truck weight restrictions.
Farmers can also benefit from the New Holland C330, using it to move all kinds of cargo, including hay bales and other supplies for crop and livestock operations.
Key Takeaway
Make your workday more comfortable and productive with New Holland Construction's latest offering – the C330 CTL.
This tough model boasts incomparable craftsmanship and performance, easily navigating steep slopes and challenging terrain to complete tasks efficiently and quickly. Plus, its user-friendly features and excellent performance make it a reliable investment for anyone needing a track skid-steer loader.
Whether you're working in construction, agriculture, or landscaping, the C330 CTL is the perfect tool for your heavy lifting and hauling needs.