Introducing The Hitachi ZX210LC-7 Excavator
Are you looking for a reliable and efficient excavator to handle any job site? Look no further than the Hitachi ZX210LC-7 Excavator!
With impressive speed, power, and precision, this Hitachi excavator is built to handle earthmoving, demolition, material handling, and other challenging tasks. The new Hitachi ZX210LC-7 is an improved version of the successful ZX210LC-6 HP.
The machine boasts a maximum dig depth of 21 feet, 11 inches and a bucket breakout force of 35,520 pounds. Plus, it's equipped with a range of updated features, such as the next-generation TRIAS III hydraulic system, which optimizes performance and reduces fuel consumption.
Want to know more about the new Hitachi ZX210LC-7 excavator? Read on!
Powerful Engine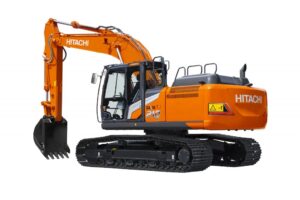 The ZX210LC-7 is a heavy-duty machine that packs a punch with its Isuzu engine, generating an impressive 164 horsepower.
Unlike most other excavators available on the market, this Hitachi model is eco-friendly. Equipped with a selective catalytic reduction (SCR) and diesel oxidation catalyst (DOC) after-treatment solution, it ensures the emissions are kept at a minimum while keeping the machine up and running.
In addition, it comes with different work modes that adjust the power output to best suit the task at hand.
First-Class Accommodations
One of the best things about the new Hitachi ZX210LC-7 Excavator is that its cab is designed with the operator's comfort and safety in mind.
The cab provides an unobstructed view of the surrounding area with panoramic visibility, increased head clearance, and a one-touch adjustable air suspension seat that moves in sync with the console. In addition, dust, noise, and vibration are minimized, creating a more comfortable and productive working environment.
Moreover, the cab has an eight-inch anti-glare LCD monitor that ensures clear visibility even in bright conditions. Operators can easily control the machine using the low-effort pilot controls – and all the switches are within easy reach.
The model also comes with an "Aerial Angle" peripheral vision camera system that offers a 270-degree comprehensive view of the machine's immediate environment.
Operators can easily choose the view on the monitor that best fits the situation. A rear-view camera ensures complete visibility, allowing operators to see the area below the counterweight.
Enhanced Durability & Reliability
Hitachi excavators are known for increased durability and reliability, and the new Hitachi ZX210LC-7 is no exception! The model comes with enhancements to key components like boom and undercarriage.
The undercarriage has an "anti-mud-compaction lower roller" design that keeps dirt and soil from getting into and damaging oil seals. The lower and upper rollers have improved idler sealing, and a track undercover protects the joint from damage.
Additionally, it has a reinforced boom end and foot, with bushings installed in the brackets for added durability.
Increases Uptime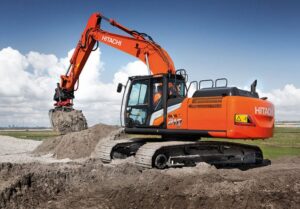 Regular maintenance is key to smooth operations and preventing expensive breakdowns. With its advanced tech, you can easily track and monitor its care.
The multi-functional monitor displays pre-set maintenance intervals every time the key turns on, making it easy to stay on top of necessary maintenance tasks. Additionally, the operator can check engine oil and coolant levels from their seat, saving time and effort.
Hitachi's ConSite telematics system monitors the excavator's operational status and alerts users of upcoming maintenance needs.
The updated "ConSite OIL function" checks hydraulic oil and engine, among other parameters, to detect issues before fault codes are triggered, thus improving uptime.
Moreover, the "ConSite Air" function enables remote diagnosis and software updates, saving time and money while keeping machines up-to-date.
Key Takeaway
Construction companies and contractors are always on the lookout for reliable and efficient equipment to ensure their projects are completed on time and within budget.
The new Hitachi ZX210LC-7 Excavator offers all they need: a spacious and comfortable cab, an advanced monitor system, reinforced tracks and components, and easy maintenance. This perfect machine delivers increased productivity, operator comfort, and durability.
Whether you're working on a construction site, landscaping project, or any other job that requires heavy equipment, the Hitachi ZX210LC-7 Excavator will fit the bill.